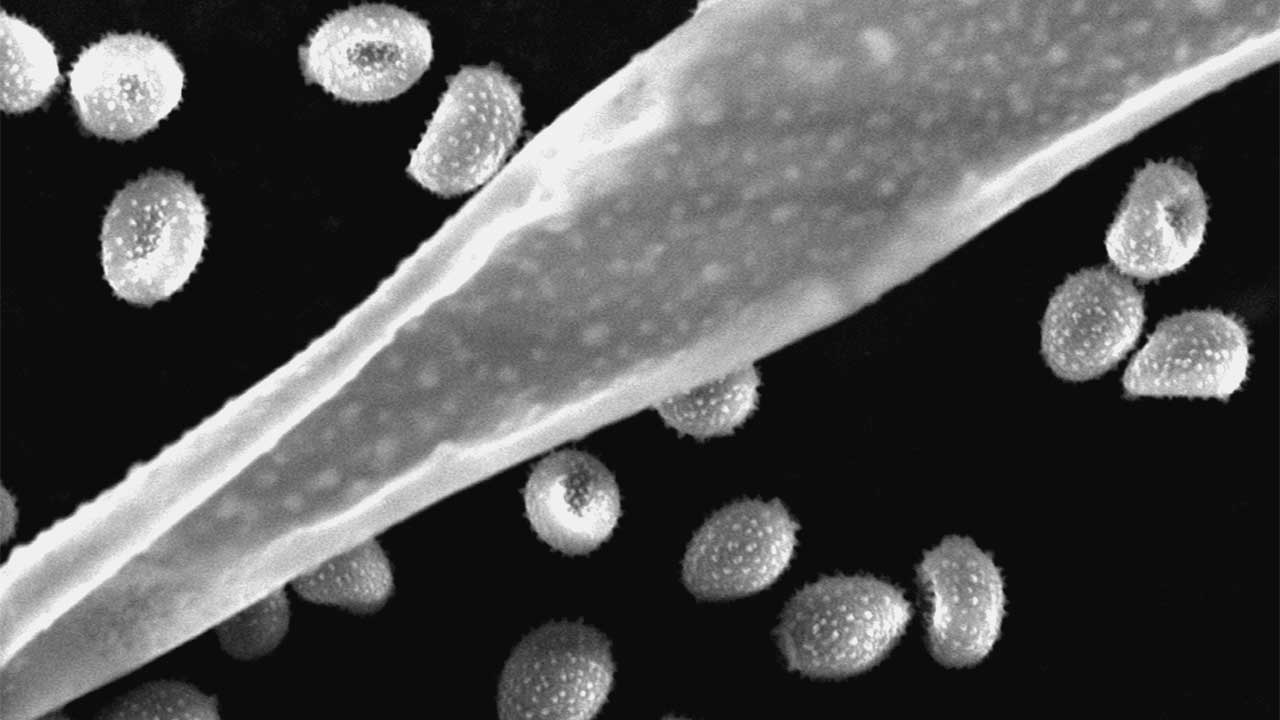 The Scanning Electron Microscopy of the Centro de Química da Madeira (CQM, University of Madeira) main objective is to support research at the Centre, being used as a routine tool for surface characterization of samples surfaces by researchers of CQM from the following national R&D projects; Post-Doc, PhD and Biochemistry (BSc and MSc) and Nanochemistry and Nanomaterials (MSc) students. Furthermore, the CQM SEM is open to external service (private or other public institutions).
Submit sample here (exclusively for CQM members)
Scanning Electron Microscopy technique
In the SEM technique, a focused electron beam causes electron emissions from the sample surface that are measured and spatially imaged. It is commonly used in Materials chemistry, in Chemistry, and Biochemistry for the structural characterization of surfaces; topography and/or quantification of chemical compounds.
Analytical services
Secondary electron imaging
Backscattered electron imaging
Elemental analysis including X-ray mapping
Particle counting and sizing
Fiber analysis
3D roughness reconstruction
Specialized sample preparation
Applications
The possibility of direct observation of structures through scanning electron microscopy allows an important correlation between processing and properties of materials. The study of the nature of material's surfaces is relevant for natural products, nanomaterials and many scientific fields such as medicine, environment, microelectronics, or mechanical engineering because many properties of materials are determined precisely by their surfaces and interfaces.
The SEM is routinely used to generate high-resolution images of object's shapes and to show spatial variations in chemical compositions.
SEM equipment
The equipment is installed in CQM/UMa under its strategic funding - Project reference: UID/QUI/00674/2013.
Supervisor: João Rodrigues (PI)
Unit Manager: Rita Castro (PhD)
Autorized User (UT): Rita Castro (PhD)
Applicant: Any researcher, research group or Entity (public or private)
Management of the equipment and organization - Responsabilities
Unit Manager
- Responsible for equipment management, approval of analysis/reports/quotations and consumables aquisition.
- Responsible for equipment operation.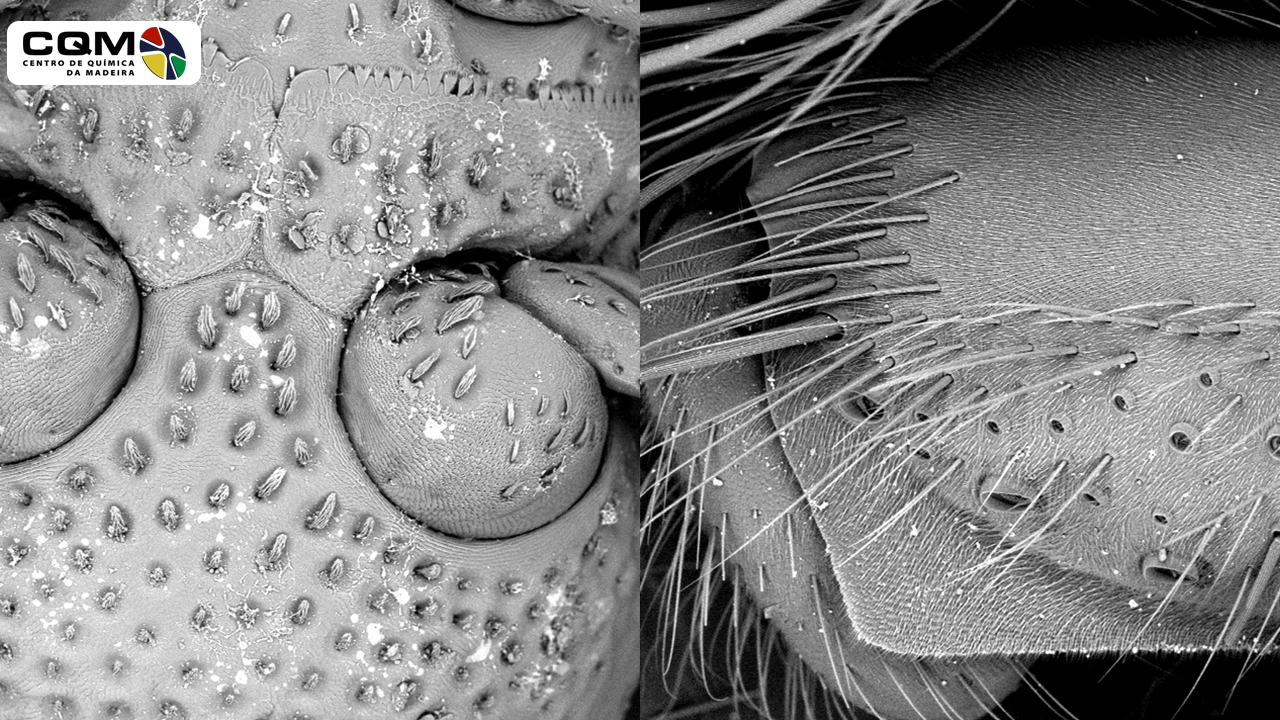 Autorized User
- Responsible for equipment operation.
- Make quarterly reports on the functioning of the Unit. Send to Unit Manager.
- Responsible for the preparation of the equipment reservation/operation time according to the norms of operation of the center.
- Make recommendations to UM about updating or purchasing material in order to ensure an efficient service.
Applicant
- Responsible for time reservation of the equipment and services cost.
- Fill the sample registration form and the registration logbook in accordance with the Center's operating rules.
TYPE OF EQUIPMENT
Bench SEM Microscope Phenom - Pro X
Scanning electron Microscope with qualitative and quantitative analysis of the sample chemical composition by EDS (Energy dispersive X-ray spectroscopy).
EDS specifications
Range of detected elements: from Boron (Z=5) to Americium (Z=95)
Detector:
Silicon Drift Detector (SDD)
Cooled by Peltier effect
Lenses
Optical - magnification: 20-135x
Electronic - Magnification: 80-135 000x
Lighting
Optical - LEDs
Electronic - CeB6 thermionic source ("Gun"). Voltage: 5, 10 and 15 KV adjustable from 4.8 KV in steps of 1 KV. Resolution=<10nm at 10 KV.
Detectors of image
Electronic:
BSD (high sensitivity backscattered electrons detector)
SED (secondary electron detector)
Accessories
Rotary knob
Sample holders

standard [Máximum sample size: 25mm (Ø) x 30mm (height)]
with charge reduction [ Máximum sample size: 25mm (Ø) x 30mm (height)]
with temperature control [Máximum sample size: 25mm (Ø) x 5mm (height)]

Keypad controller
Software
Windows 7 PRO LCP
ProSuite image acquisition, processing, and analysis
Infrastructure Requirements
Power Supply
Pre-Vacuum pump
Chiller Unit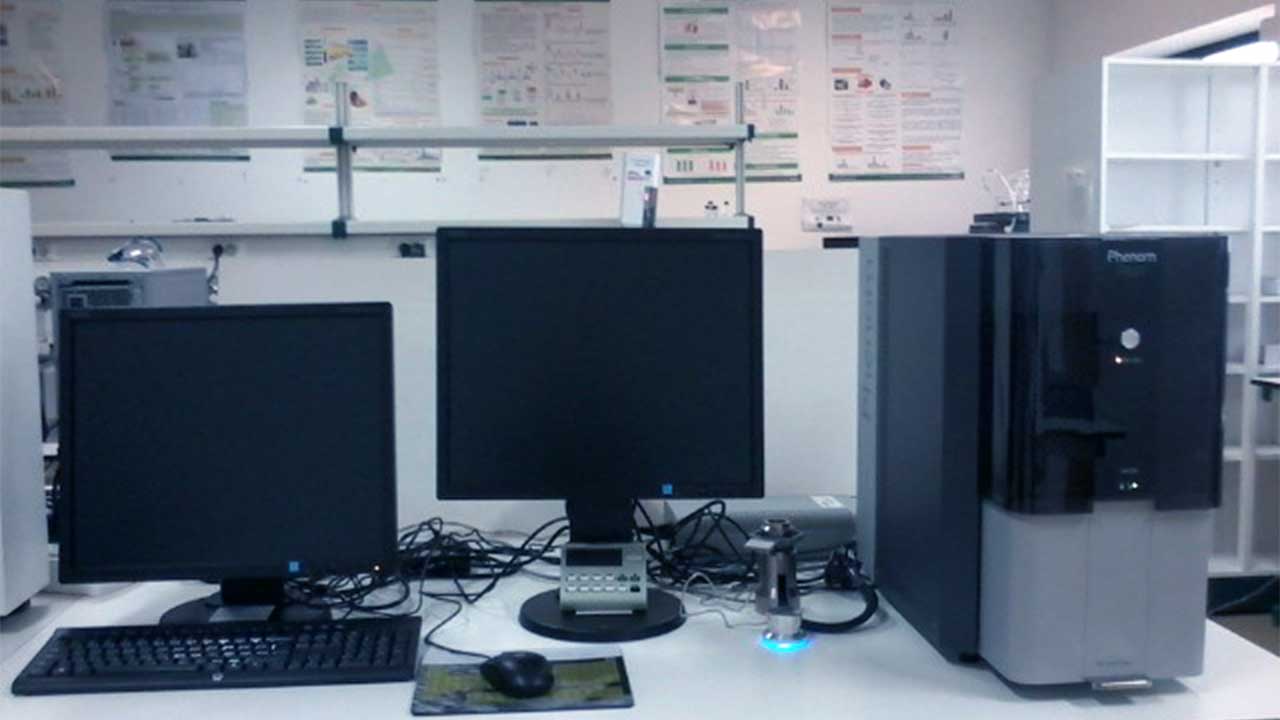 Regulation of operation of the SEM equipment
General Guidelines
These Guidelines are intended to be a guide to the autorized users and applicants that uses the CQM SEM equipment and as such must be followed by all. Otherwise, the access to use the microscope will be denied.
The user should keep the equipment in good working order.
The user needs to provide the guarantees, when required, to safeguard the damages and/or faults in the equipment;
The user is responsible for damages and/or malfunctions in the equipment that is affected by it, if not covered by the warranty and insurance;
The right to use the equipment, complying with the established rules, in accordance with the terms approved by the Center.
THE OPERATION OF THE SEM EQUIPMENT IS ONLY AUTHORIZED TO THE RESPONSIBLE RESEARCHERS, AFOREMENTIONED.

Only authorized users will be granted access to the microscope. In order to be authorized to use the equipment, EVERYONE must first receive training even if you are already familiar with the technique.
ALWAYS register your work in the Logbook.
Report in the Logbook, any problem with the equipment or software and inform the UT as soon as possible.
The applicants should submit an analysis request by filling on line the sample registration form, as detailed as possible, to proceed the SEM sample analysis, upon approval by the Unit Manager. Be advised that your supervisor has to be informed of your SEM registration in advance.
Please be responsible and careful. Curiosity is good, but not with an expensive equipment.
Remember that your supervisor WILL PAY for your usage time and possible damages.
The final cost of each analysis takes into account the: maintenance costs, analysis type, total user time and user type (academic or industrial). For details about prices and charges applied, check our price table.
If there is a reservation made YOU HAVE TO RESPECT IT, even if it is an emergency. Don't start an analysis unless there is enough time to finish it before the next person. In the same manner, DO NOT schedule an analysis just moments before you need, plan your time properly or wait for an opening. For more information on time reservation, please contact

SEM samples must be properly labeled and should be removed from the SEM sample holder after the analysis is finished. Unlabeled samples will be disposed of.
Scanning Electron Microscopy Services
The user fees are intended to cover CQM SEM expenses, which includes the analysis, consumables, parts, and maintenance. Minimum time of 1 hour. After 1 hour, the session will be charged in blocks of 30 minutes.
Choose the class that are best suited to your case or consult us using the address: .
The price of services provided is divided into three classes, namely:
CQM Research groups
FCT National Centers and National Public Laboratories
Companies and private Research Centers
Class 1

Class 2

Class 3

Analytical Services (€ / h)*

€ 35.00

€ 61.00

€ 101.50

Specialized sample preparation

Included in the time of analysis
(prices: valid from January 2022; VAT not included, please add tax at rate of 22%)
* The purchase of service hours packs will benefit of discount. 5% and 10% discount for 10 and 20-hour packs, respectively. Only applied for Classes 2 and 3.
Service Packs
| | | | |
| --- | --- | --- | --- |
| Service cost (€ / h) | Class 1 | Class 2 | Class 3 |
| Pack5 (5 h) | - | € 61.00 | € 101.50 |
| Pack10 (10 h) | - | € 58.00 | € 96.50 |
| Pack20 (20 h) | - | € 55.00 | € 91.50 |
(prices: valid from January 2022; VAT not included, please add tax at rate of 22%)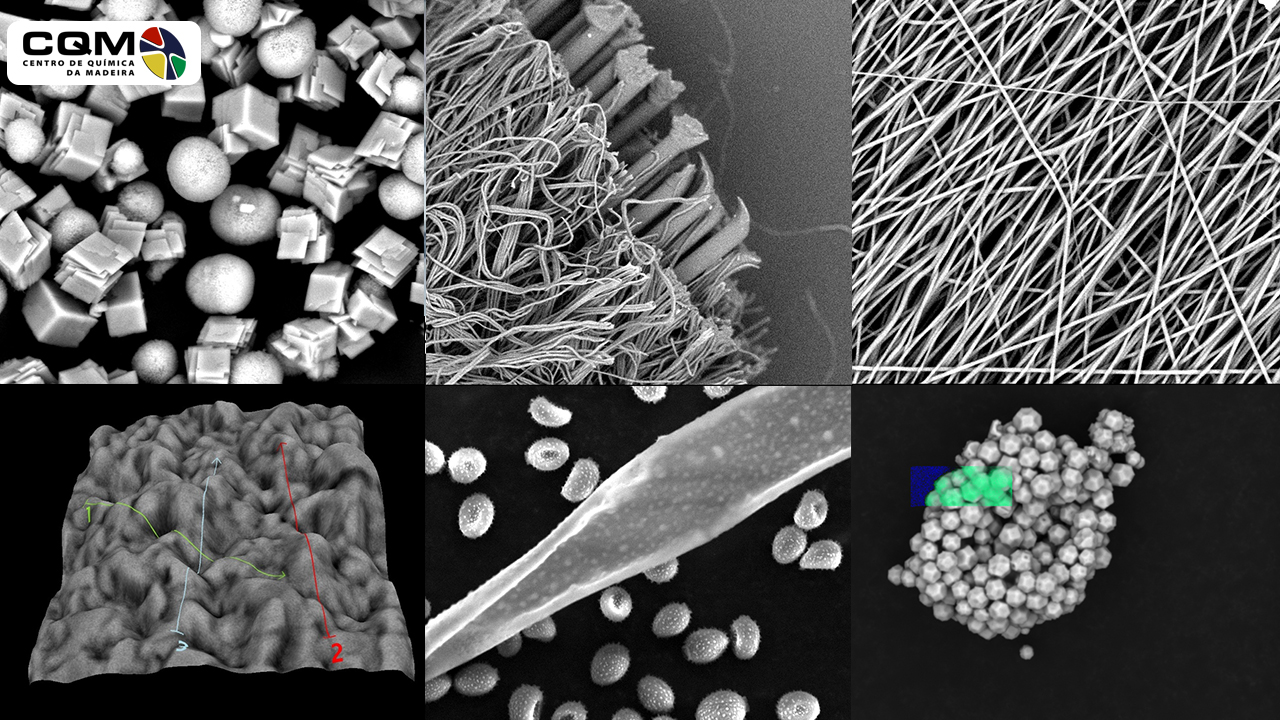 Schedule Scanning Electron Microscopy Service
To access the Scanning Electron Microscopy Service, please fill the sample registration form. If you are not a CQM member and would like to perform SEM analysis, please contact us via and check the pricing list.
After the form submission, you will receive in your mail box an email confirming the successful sample registration and the filled form.