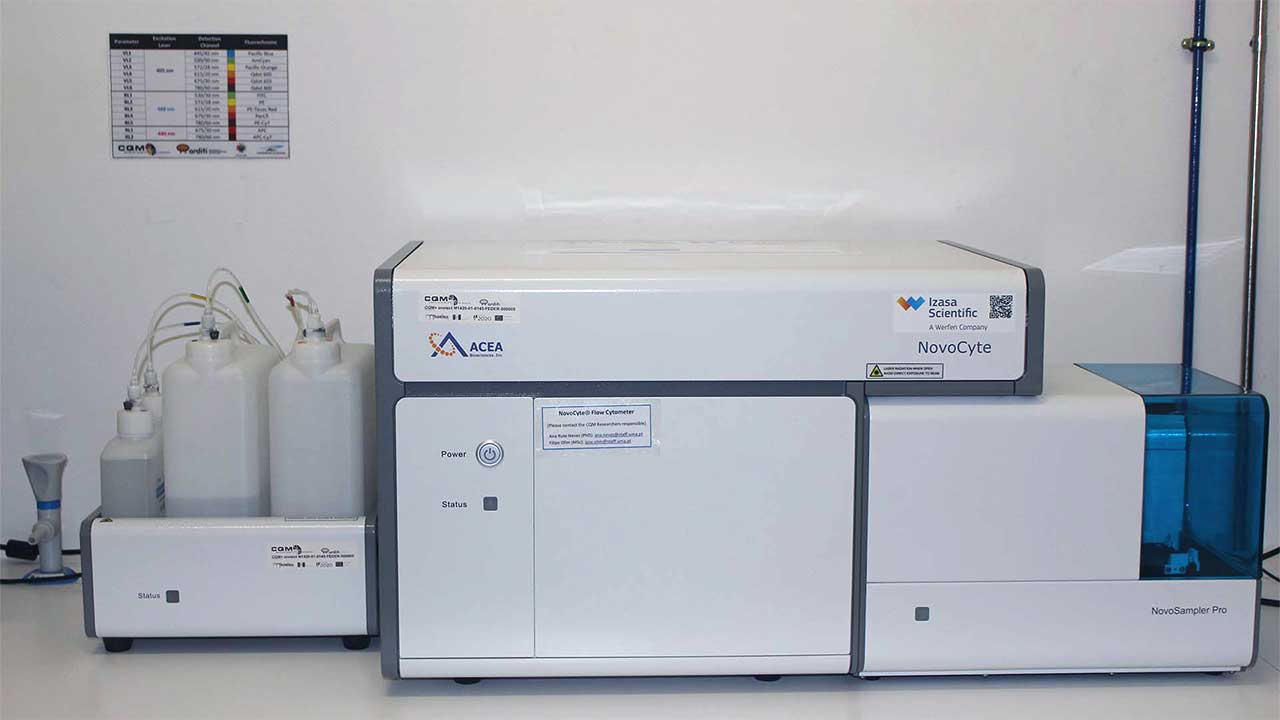 The Flow Cytometer NovoCyte® 3000 + NovoSampler® Pro (ACEA Bioscience) of Madeira Chemistry Research Center (CQM, University of Madeira) was acquired under the CQM+ Operation financed by the Madeira Program 14-20 (ARDITI - M1420-01-0145-FEDER-000005 - CQM+ - Centro de Química da Madeira) and has the purpose of improving the facilities and installed capacity of the CQM and the activities included in the different projects that constitute the CQM+ Operation. In addition, the equipment is open to external service (private or other public institutions).
To access the Flow Cytometry service provided by CQM, please click here to submit your sample and follow the available instructions.
Description
This equipment is the first in the Region fully dedicated to research in the field of Health and Biochemistry which has 3 lasers (405 nm, 488 nm, 640 nm) and 13 channels of fluorescence detection, and is at the service of CQM researchers, through access regulation and user platform, for the study of anticancer and anti-infective compounds under development in this national research unit.
The Flow Cytometry technique
Flow cytometry is a technique used to count, examine and classify microscopic particles, for example cells. This technique allows the simultaneous analysis of several parameters, being able to analyze physical and/or chemical characteristics (eg. size, morphological complexity, fluorescence, etc.) of several cells in each second and in real time. This technique is widely used in oncohematologic diagnosis (eg. neoplastic cell detection, cell cycle analysis,...), for cell proliferation studies and cell quantification.
Equipment specifications
Optics System: Lasers and Detectors
The NovoCyte 3000 System features an optical system with three independent solid-state lasers and an optics that ensures maximum sensitivity and resolution while minimizing the loss of light in each channel. The optical system configuration of the equipment is as follows:
Blue Laser:
Emission at 488 nm.
5 Fluorescence Parameters. Example of standard parameters: FITC, PE, PE-Texas Red, PerCP, PE-Cy7.
2 Scatter Parameters: Forward Scatter (FSC) and Side Scatter (SSC).
Red Laser:
Emission at 640 nm.
2 Fluorescence Parameter. Example of standard parameters: APC and APC-Cy7.
Violet Laser:
Emission at 405 nm.
6 Fluorescence Parameters: Examples of standard parameters: Pacific Blue, V500, Pacific Orange, Qdot 605, Qdot 655 and Qdot 800.
In total, the system is capable of simultaneously analyze up to 15 parameters: 13 fluorescence and 2 scattering, FSC and SSC.
Particle detection range: 0.2 μm to 50 μm.
Fluidics System:
The NovoCyte 3000 equipment monitors the flow state of the cytometer in real time through pressure sensors, minimizing the possibility of clogging during data acquisition.
Auto sampler NovoSampler® Pro:
The NovoCyte 3000 has a sample injection system through a high precision syringe. The equipment includes an auto sampler with protocols of agitation, mixing and automatic alignment, allowing to work with the following types of tubes:
Standard tubes of cytometry 12 x 75 mm.
24/48/96 well plates with flat, U or V bottoms.
Acquisition speed:
Acquisition speed: 35,000 events/second
Sample flow rate: 5-120 μl/min
Cleaning system and elimination of bubbles:
The NovoCyte 3000 cytometer is equipped with automatic cleaning, decontamination and bubble elimination functions, which help the maintenance of the system, avoiding the long cleaning protocols. The user can also individually select any of these daily cleaning functions on the same taskbar.
The liquid sensing sensors warn the user when the liquid levels used by the cytometer are too low, thereby preventing air from entering the system.
Computer system:
Hardware:
Next-generation computer Dell OptiPlex 7010/7020 SFF with capacity for data acquisition and processing.
Intel Core i7 processor.
24" TFT flat screen.
Software:
64-bit Windows 7 professional operating system.
NovoExpress™ Flow Cytometer Software.
Files exportation in Flow Cytometry Standard 3.0 format, in CSV format and in Batch mode.
Compatibility with files acquired in other cytometers.
Ability to analyze multiple files simultaneously.
Very simple handling with a simple graphic interface.
Automatic protocol for switching the equipment on/off (without user intervention).
Automatic cleaning control.
Automatic cell cycle analysis system.
Manual compensation and self-compensation capability.
Quality Control System:
The NovoCyte 3000 cytometer features a function to automatically perform Quality Control tests. Through this type of tests, the user has daily information of the state of the equipment.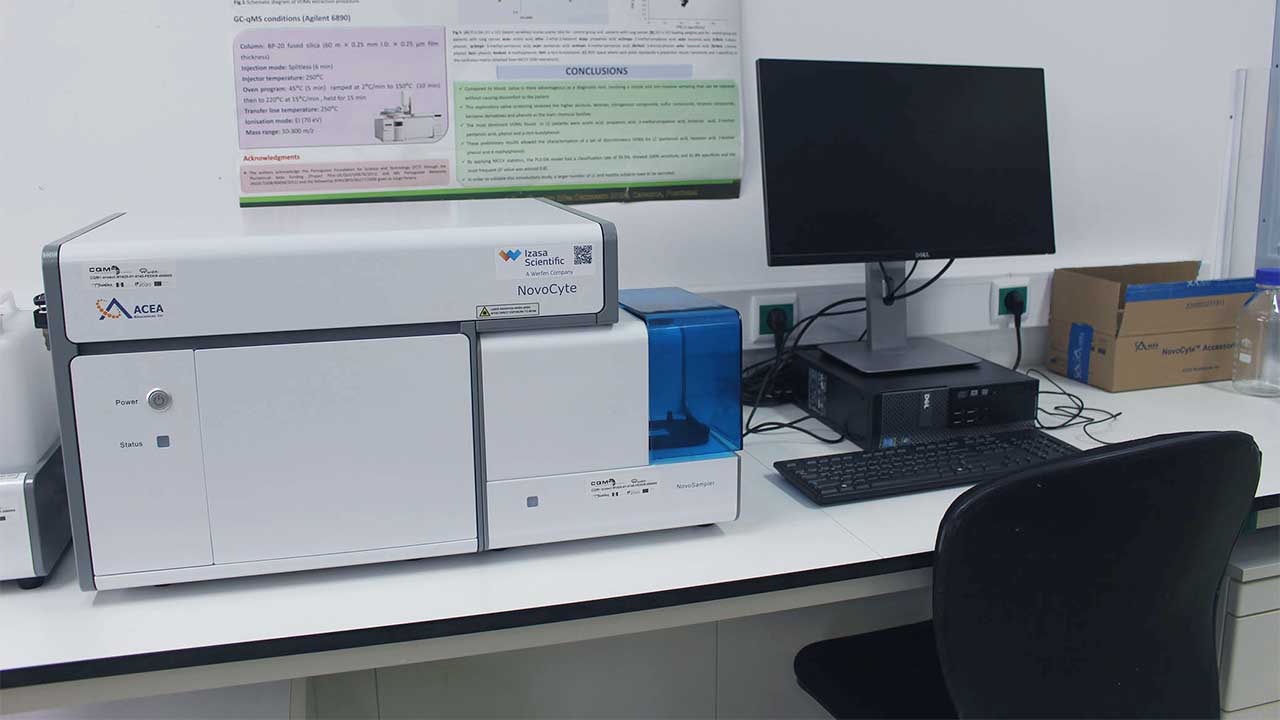 NovoCyte® 3000 + NovoSampler® Pro Flow Cytometer (ACEA Bioscience) of Centro de Química da Madeira
Registration and scheduling of cytometer
To access the Flow Cytometry service provided by CQM, please click here to submit your sample and follow the available instructions.
Management team
Unit Manager:
Responsible Professor:
Responsible Researchers:
Mara Gonçalves (PhD)
Filipe Olim (MSc)
Acknowledgements
CQM acknowledges Madeira 14-20 Program and ARDITI-Agência Regional para o Desenvolvimento da Investigação Tecnologia e Inovação, through the project M1420-01-0145-FEDER-000005 - Centro de Química da Madeira - CQM+ (Madeira 14-20).