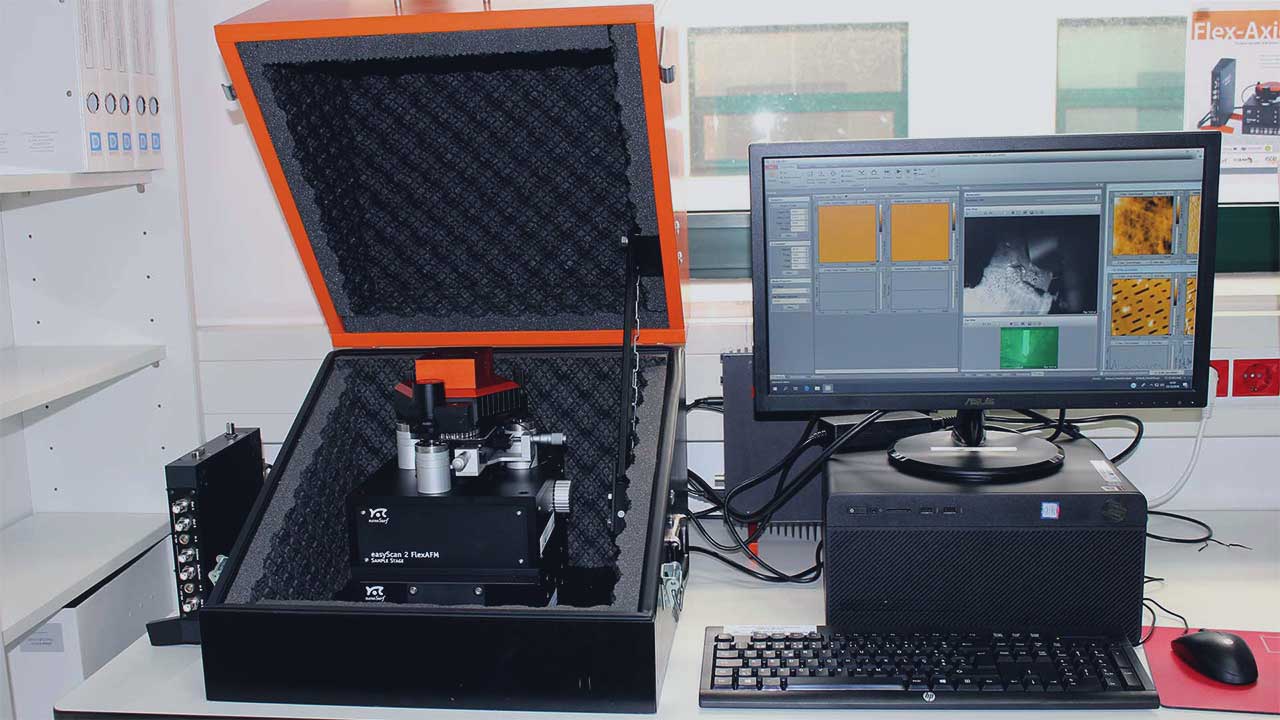 The Atomic Force Microscopy Nanosurf FlexAFM System of the Centro de Química da Madeira (CQM, University of Madeira), is the first AFM equipment in Autonomous Region of Madeira, Portugal. This equipment is intended for research and has as its main priority the activities/research within the scope of the ECOFIBRAS Project (MAC / 4.6D / 040) for the topographic characterization of fibers of invasive species of Macaronesia, and as part of the research activities of CQM, the study of polymer fibers and DNA films. In addition, and depending on the availability of time, the AFM equipment is open to external services (other public or private institutions).
Submit sample here (exclusively for CQM members)
THE ATOMIC FORCE MICROSCOPY TECHNIQUE
Atomic force microscopy consists of a type of high resolution microscopy at nanoscale. This technique is used for the analysis of surfaces, in order to obtain information such as topography (roughness, size), material contrast, electrical, magnetic and nanomechanical properties, and surface modification such as lithography. These analyzes can be performed on fixed samples (including biological samples), in air or in liquid medium. The principle of this technique is based on a small probe with a tip (ideally made up of a single atom) coupled to piezoelectric elements with the ability to scan the surface. During this scan, the sensed interactions between the tip and the sample surface atoms are translated into probe deflection / amplitude / frequency variations, which depend on the tip-to-sample distance, that is, whether the interactions are attractive or repulsive. These small variations are then converted, for example, into image, force maps or force curves. The AFM technique has been used in many different areas, such as Biological / Materials Science and Nanomanipulation.
EQUIPMENT SPECIFICATIONS
The Nanosurf FlexAFM combined with the C3000 controller is a fully developed research system to perform AFM analysis on its own, or be coupled to inverted microscopes for combination / complementation of results.
AFM System:
C3000 controller: high speed acquisition signal, dynamic digital filters, real-time monitoring, digital data processing at 24-bit ADC/DAC, FPGA module and processor.
- Specification:
X/Y slope correction
Force-distance, amplitude-distance, phase-distance spectroscopy, tip current-tip voltage
Setup Wizard for spectroscopy
I100 scan head interface.
FlexAFM scan head: speed, linearity, flatness, analysis in air and liquid.
- Specifications:
Sample maximum dimensions: 100 mm x 9 mm (width x height)
Manual Approach: 30 mm
Scanning area: 100 μm (XY-range)
Height: 10 μm (Z-range)
Tripod stand-alone scan head with tip scanner
Piezo-based Z-actuator, Optical Z-position sensor and Closed loop Z-control
Low noise photodiode detector (4 quadrant)
Automatic and manual on/off laser (red and near-infrared)
Approach with continuous DC-motor
Automatic self-alignment for probes and magnetic alignment of probe holder
- Operation modes:
Static Force, Dynamic Force, Phase Contrast, Magnetic Force, Electric Force, Basic Spectroscopy, Basic Lithography, Spreading resistance, Force Modulation, Espetroscopia avançada, Litografia avançada
- Specifications:
color (3.1 MP, top view)
monochrome (1.3 MP, side view)
Simultaneous display of top/side view, 4x digital zoom in three steps (1/2/4x)
Cantilever holders (for air and air/liquid).
Cantilever exchange tool.
FlexAFM Sample stage (EasyClean 2 FlexAFM Sample Stage): vibration isolation and reproducible scan head alignment.
IsoStage: anti-vibration stage optimized for FlexAFM.
Micrometer Translational stage: 3 mm in each direction (XY)
Nanosurf Acoustic Enclosures: acoustic isolation, air, light and electrical perturbations during analysis.
Informatic system:
Computer HP Pro A Microtower Business
Intel i5 (8th gen) processor
500 GB disc, 4GB RAM.
Monitor/flat screen TFT de 23''
64-bit Windows 10 Professional operating system.
Nanosurf C3000 Controller software v. 3.8
-Provides all functions for the microscope operation during surface analysis, other more advanced operation modes, data analysis for further data processing..
The Scanning Probe Image Processor, SPIP(TM) v. 6.4.4
- Proessing and analysis of microscope images, extraction and analysus of image data.
Gwyddion
- Visualization and analysis of AM data such as dimensions,, image processing, profilometric or topographic data analysis, complex image analysis.
AtomicJ
- Analysis of force data, image and force curves, spectroscopy maps.
Layout Editor
- Graphical vector design for lithography.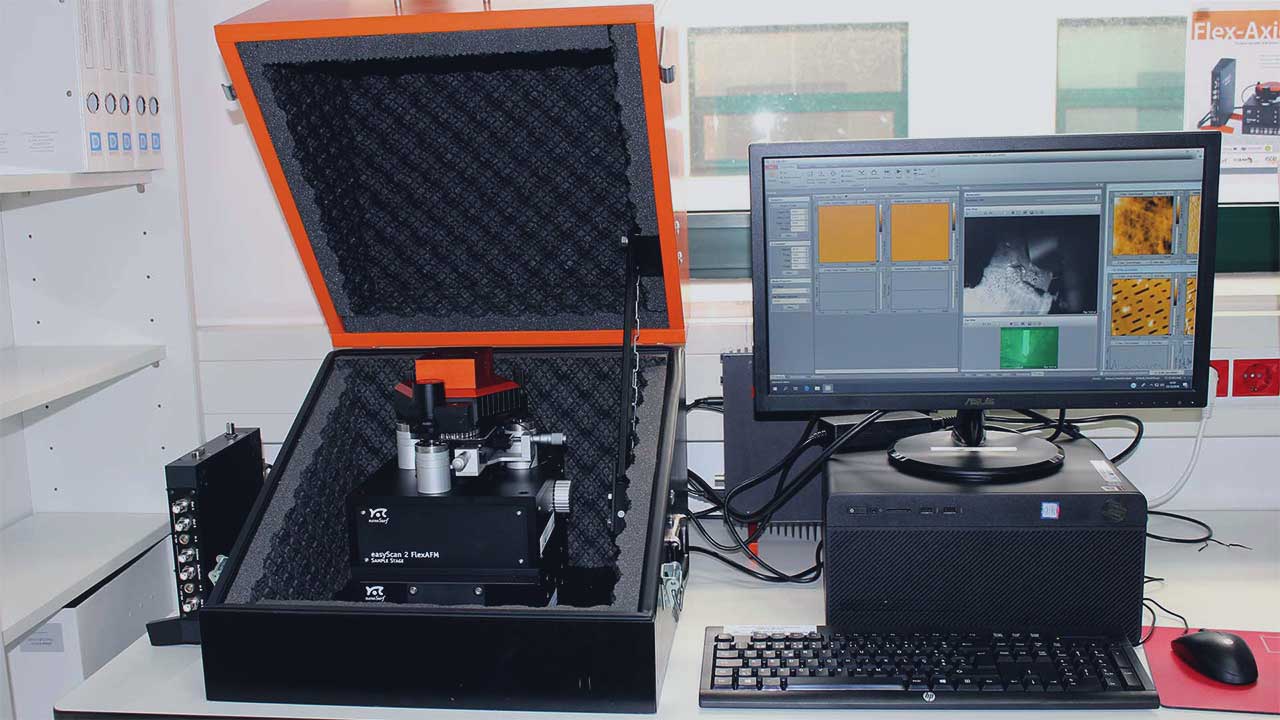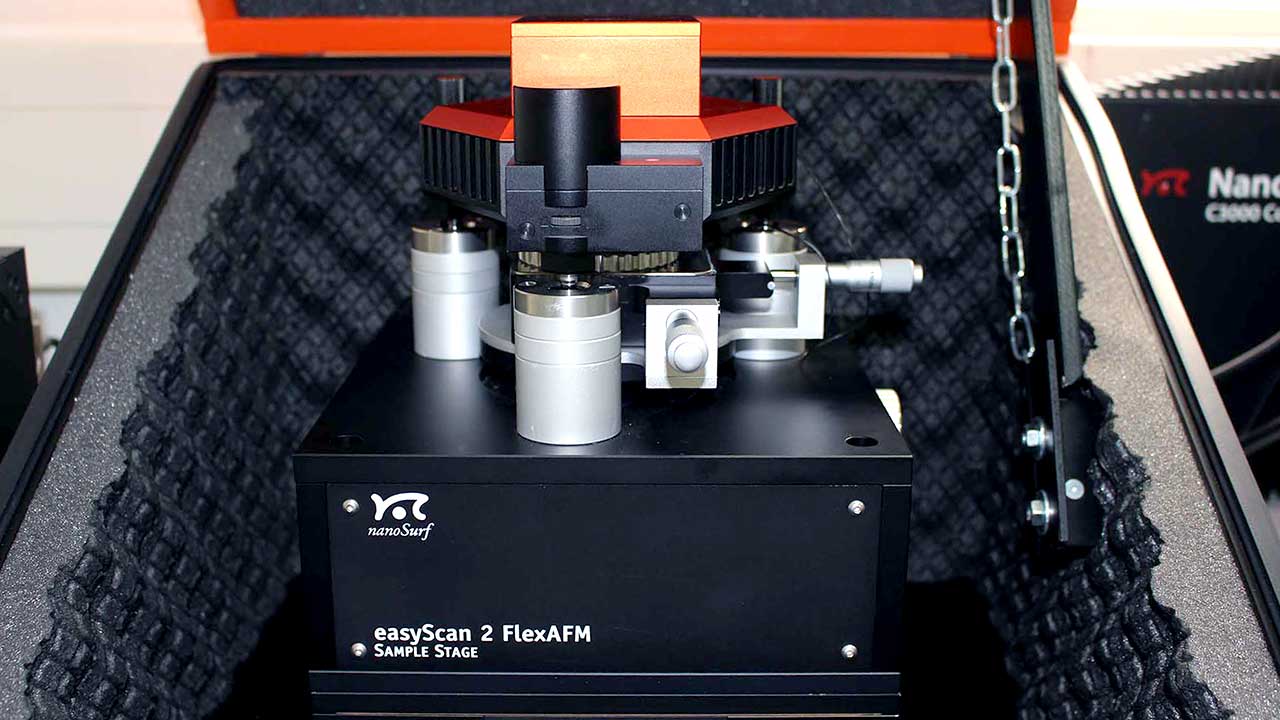 CQM's AFM Equipment
MANAGEMENT OF THE AFM EQUIPMENT
Project Manager: João Rodrigues (PI)
Unit Manager: Rita Castro (PhD)
Authorized Users: Rita Castro (PhD)
Responsibilities
Unit Manager:
Responsible for equipment management, approval of analysis/reports/quotations and consumables acquisition.
Responsible for equipment operation
Authorized Users/researchers:
Responsible for equipment operation.
Make quarterly reports on the operation of the unit. Send to the Unit Manager and supervisor.
Responsible for the preparation of the equipment reservation/operation time according to the norms of operation of the center.
Make recommendations to UM about updating or purchasing material in order to ensure an efficient service.
Applicant:
Responsible for time reservation of the equipment and services cost.
Fill the sample registration form and the registration logbook in accordance with the Center's operating rules.
Regulation of operation of the AFM equipment
General Guidelines
These Guidelines are intended to be a guide to the authorised users and applicants that uses the CQM AFM equipment and as such must be followed by all. Otherwise, the access to use the microscope will be denied.
The right to use the equipment, complying with the established rules, in accordance with the terms approved by the Center.
THE OPERATION OF THE AFM EQUIPMENT IS ONLY AUTHORIsED TO THE RESPONSIBLE RESEARCHERS, AFOREMENTIONED.
Only authorized users will be granted access to the microscope. In order to be authorized to use the equipment, EVERYONE must first receive training even if you are already familiar with the technique.
The user is responsible for damages and/or malfunctions in the equipment that is affected by it, if not covered by the warranty and insurance;
The user should keep the equipment in good working order.
The user needs to provide the guarantees, when required, to safeguard the damages and/or faults in the equipment;
The user should ALWAYS register the analysis performed in the Logbook.
The user should report in the Logbook, any problem with the equipment or software and inform the Unit Manager as soon as possible.
The applicants should submit an analysis request by filling on line the sample registration form, as detailed as possible, to proceed the AFM sample analysis, upon approval by the Unit Manager. Be advised that your supervisor has to be informed of your AFM registration in advance.
Remember that your supervisor WILL ALWAYS PAY for the equipment operation time and possible damages.
The final cost of each analysis takes into account the: maintenance costs, analysis type, total user time and user type (academic or industrial). Additional costs may be necessary, as the applicant will be informed in advance and will be applied after its approval. For details about prices and charges applied, check our price table.
If there is a reservation made YOU HAVE TO RESPECT IT, even if it is an emergency. Don't start an analysis unless there is enough time to finish it before the next person. In the same manner, DO NOT schedule an analysis just moments before you need, plan your time properly or wait for an opening. For more information on time reservation, please contact us at

.
AFM samples must be properly labeled and should be removed from the AFM sample holder after the analysis is finished. Unlabeled samples will be disposed off.
Atomic Force Microscopy (AFM) services
Guidelines for samples preparation and features
The optimum conditions of the sample (s) for analysis must be guaranteed by the applicant. Any treatment needed for the analysis will have additional costs, and the applicant will be informed in advance.
The sample surface must be completely clean, free of dust or particles (use of compressed air).
The sample surface must be completely clean, free from adsorbed substances such as oils due to handling (use of compatible cleaning solvents such as ultrapure water, ethanol or acetone). ADDITIONAL COSTS.
If the sample is incompatible with organic solvents, it should be cleaned in an ultrasonic bath. ADDITIONAL COSTS.
Samples must have maximum dimensions of 100 mm x 9 mm (length x height).
Measurements in liquid media must not exceed 6 mm of liquid above the sample surface and it must be adsorbed to a surface. Suspended particles are not allowed.
If the sample has properties that are not compatible with the normal operation of the AFM equipment (high roughness level and/or contamination), the applicant will be informed. If you insist on the analysis and this leads to increased use of consumables or the additional loss of AFM probes, this will have ADDITIONAL COSTS.
Price table
The user fees here presented are intended to cover CQM AFM expenses, which includes sample preparation, analysis, data treatment, technical support, parts and equipment maintenance. Minimum time request of 5 hours. After 5 hours, the session will be charged in blocks of 1 hour.
The services are classified by users and type of analysis. Choose the class that are best suited to your case or consult us at the address:.
The price of services provided is divided into three classes, namely:
CQM Research groups
FCT National Centers and National Public Laboratories
Companies and private Research Centers
Services charges - Price per hour (€/h)*
AFM Analysis type
Class 1
Class 2
Class 3
Basic AFM
Topography and Force Spectroscopy
€ 56.00
€ 77.50
€ 86.50
Advanced AFM
Magnetic, Conductive
€ 64.00
€ 86.50
€ 94.50
Lithography
€ 68.00
€ 90.50
€ 98.50
Special Probe
Operation in Liquid
€ 68.00
€ 90.50
€ 98.50
High Resolution (air / liquid)
€ 100.00
€ 117.00
€ 127.00
(prices: valid from January 2022; VAT not included, please add tax at rate of 22%).
* Minimum time: 5h. The purchase of service hours packs will benefit of discount. 5% and 10% discount for 20 and
30-hour packs, respectively. Only applied for Classes 2 and 3.
Scheduling AFM
To access the Atomic Force Microscopy service, provided by CQM, follow the sample preparation guide and the regulation available above. If you are not a member of CQM and would like to do AFM reviews, please contact us at .
Submit sample here (exclusively for CQM members)
After submitting the form, you will receive an email in your mailbox with the indication that your registration was successful and with the filled form attached.
Acknowledgements
The Principal Investigator and CQM acknowledges for the financial support of the MAC 2014-2020 Territorial Cooperation Program through the European Regional Development Fund (FEDER) under the ECOFIBRAS Project (Sustainable exploitation of Macaronesia invasive plant species for industrial fibers, MAC/4.6 D/040).