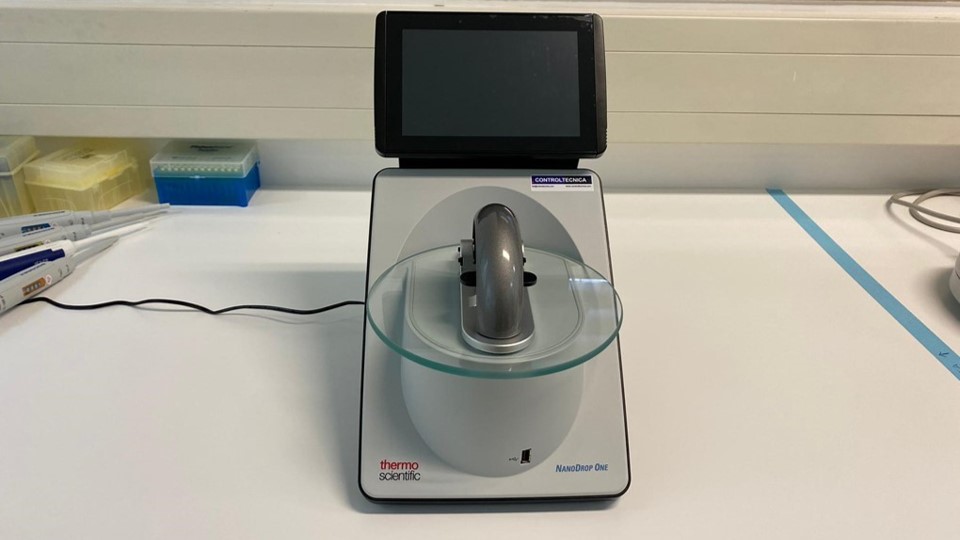 The NanoDrop One Microvolume UV-Vis Spectrophotometer of Madeira Chemistry Research Center (CQM, University of Madeira) was acquired under the FCT Programmatic Fund UIDP/00674/2020 to improve the facilities and installed capacity of CQM, supporting the research activities included in the different projects underway. This equipment's application areas are mainly in molecular biology, more specifically for the quantification of nucleic acids and proteins. In addition to the support of research activities of CQM, the equipment is open to external service (private or other public institutions) according to the following list of prices:
Pricing
Price per sample
Class 1: 0.50 € (FCT National Research Centers)
Class 2: 1.50 € (Regional and National Public Laboratories)
Class 3: 2.00 € (Companies and Laboratories or private Research Centers)
Price per hour (minimum time: 1h): 20€ (external services only) (plus 22% of taxes).
The fees include sample handling, analysis, and data treatment.
Description
This system provides a quick and easy quantification and assesses purity of samples, such as proteins and nucleic acids. The NanoDrop instrument is able to quantify and qualify DNA, RNA, and protein samples in seconds with only 1-2 µL, and obtain full-spectral data of samples.
Our equipment is the third generation NanoDrop One UV-Vis spectrophotometer and is built with Thermo Scientific™ Acclaro™ Sample Intelligence technology. This technology offers sample contaminant identification, corrected concentrations, and information alerts with guided troubleshooting, helping our researchers to save days of troubleshooting failed experiments.
Equipment specifications
The following information was adapted from the ThermoFisher Scientific Nanodrop One User Guide (Reference: 269-309102 NanoDrop One UG, Revision B, September 2020).
Acclaro Sample Intelligence Technology
The Acclaro technology delivers accurate sample quantitative measurements and qualitative information. It is able to identify contaminants in the samples.
Rapid sample quality verification – identification of sample contaminants with corrected concentration results.
Information through alerts – instant feedback about sample quality with on-demand technical support and guided troubleshooting.
Embedded camera and digital image analysis monitor for intrinsic bubbles and other anomalies in the sample column ensuring measurement integrity
Identification of nucleic acid contaminants such as RNA contamination in dsDNA samples and chemical contaminants such as phenol in RNA samples.
NanoDrop One Characteristics
Ergonomic design with an integrated tablet, touchscreen user-friendly interphase and data transfer via Wireless, Ethernet or USB.
Auto-Measure and Auto-Blank functions
Integrated Learning Center - an archive of technical support documents and educational animations.
Wide spectral range (190-850 nm) for measuring a variety of samples types:

Peptides (205 nm)
DNA and RNA (260 nm)
Purified protein (280 nm)
Toxicology assays and industrial dyes (490 nm)
Gold nanoparticles (520 nm)
Colorimetric protein assays (BCA 562 nm, Bradford 595 nm, Modified Lowry 650 nm, Pierce 660 660 nm)
Optical Density measurements (600 nm)
Pre-configured methods for DNA, Protein A280, Microarray, Protein and Labels, Pierce 660, Bradford, BCA, and Lowry

Accommodates a wide range of concentrations (2.0 - 27,500 ng/µL dsDNA and 0.06 - 820 mg/mL BSA, for example)
Only 1 – 2 µL of your sample is required with no dilution even for highly concentrated samples (dsDNA at 27,500 ng/µL)
Calculates sample purity ratios (A260/A280 nm and A260/A230 nm)
Advanced Connectivity for Data Storage and Sharin
Multiple choices for data export: saved data obtained via USB or directly in the Thermo Fisher Cloud via Wi-Fi or Ethernet network.
24/7 access to data: data can be collected, analysed, stored and shared across different Thermo Fisher Cloud-connected accounts.
Registration and scheduling of NanoDrop
To use the NanoDrop service provided by CQM, please contact Dr Mariana Vieira ().
Management team
Project Manager: João Rodrigues (PI)
Unit Manager: Mariana Vieira (PhD)
Authorized Users: Mariana Vieira (PhD) and Filipe Olim (MSc)
Acknowledgements
CQM acknowledges the support of FCT-Fundação para a Ciência e a Tecnologia (Programmatic Fund UIDP/00674/2020).