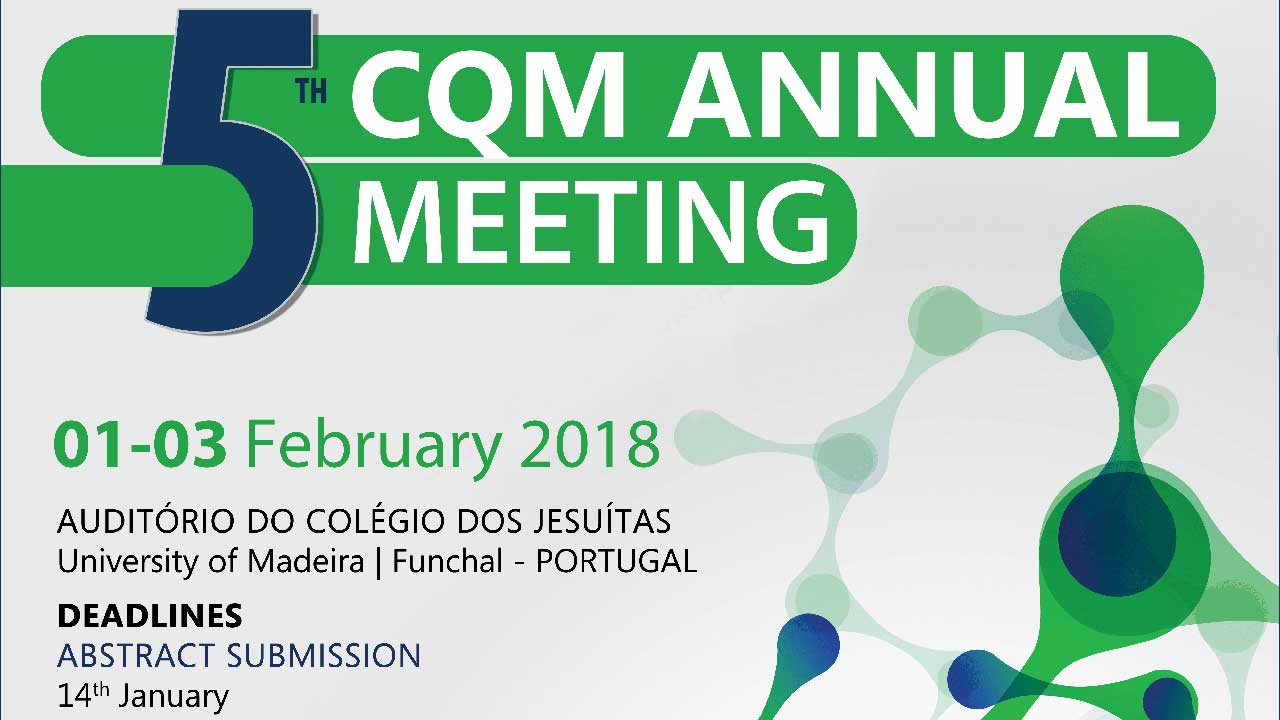 The Madeira Chemistry Research Center (CQM) organizes its 5th CQM Annual Meeting to be held in the University of Madeira, Funchal (Portugal), from 1 to 3 February 2018.
Call for papers
Participants are invited to submit abstracts for consideration for oral and poster presentations using the template available bellow before 14th January 2018. Attendees will be selected by peer review, according to the following topics, but proposals for other thematic panels are welcome.
Authors must submit their abstracts using the MS Word template available for download.
Food chemistry
Molecular modeling and drug design
Nanomaterials for optoelectronic and biomedical applications
Natural products
Venue & Program
Conferences will take place at the Colégio dos Jesuítas auditorium, University of Madeira, Funchal, according with the program to be announced soon.
Registration & Fees
Participants must fill in the registration form available online by clicking over the link indicated bellow until 28th January 2018. After submission it will be sent you an automatic message (e-mail) confirming the reception of your registration. Make sure that you indicate correctly your e-mail address. In the following 2-3 days (week days) participants will receive the acceptance confirmation from the organisation.
Registration fees
| | | |
| --- | --- | --- |
| Delegate | Until 28/01/2018 | Late Fee - After 28/01/2018 |
| CQM Members | Free of charge | € 10.00 |
| Students non CQM members | € 25.00 | € 35.00 |
| Researchers/Former students of UMa | € 80.00 | € 90.00 |
| Companies Pack* | € 300.00 | € 350.00 |
| Others | € 100.00 | € 110.00 |
Note: Holders of the membership card of the Academic Association of UMa benefit from a 50% discount in the registration fee upon exhibition of a copy of the membership card - valid for fees over 25€.
*To know about conditions and other information send us an e-mail to .
The payment of the registration fee is available only by wire bank transfer in favor of the University of Madeira and only in Euros.
Important notes:
All the names and the information must be clearly stated on the bank transfer.
Payment proof/confirmation must be sent as an attachment to , in order for the Organizing Secretariat to trace and acknowledge payment.
Currency exchanges or bank fees have to be paid by the participant. Bank transfer should be NET of costs.
No refunds will be made but substitutes will be accepted.
Contacts
5th CQM Annual Meeting
Centro de Química da Madeira (CQM)
Universidade da Madeira
Campus da Penteada
9020-105 Funchal, Portugal