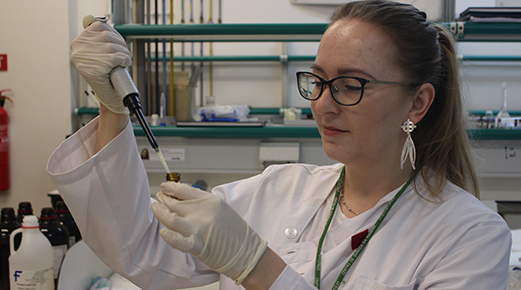 Interview with Monika Mullerová, Ph.D. Student at CQM

.
What is your academic background and how did you come to CQM?
In the Czech Republic, I study Ph.D programme "Drugs and biomaterials" in the University of Chemistry and Technology, Prague. However, I perform my doctoral research based on synthesis of carbosilane glycodendrimers at the Institute of Chemical process fundamentals of the Czech Academy of Science. I was searching for opportunities to take an internship abroad for almost 3 years. However, my previous attempts failed for different reasons. I knew there is a strong dendrimer-oriented research group at the University of Madeira. I attended the IDS11 Conference organized by UMa and spoke to Prof. João Rodrigues - senior researcher at CQM - in person. We agreed to establish a common project regarding carbosilane dendrimers. Finally, I applyed for Short-Term Scientific Mission provided by Nano2Clinic - COST Action CA17140 to fund my 3 moths internship and I was granted!
What do you think about the CQM laboratories and equipments?
I find CQM laboratories very well equipped; they are definitely comparable to what I am used to from my home institution. However, CQM posses some advanced analytical equipment (MALDI-TOF Mass spectrometer, autosampler for NMR), which make me sincerely envious. Moreover, more biology and biochemistry-related research is well established here (cell cultivation, cytotoxicity, transfection and drug encapsulation tests, etc.) As I am a chemist, it is completely new area to explore and I feel very grateful to learn new techniques.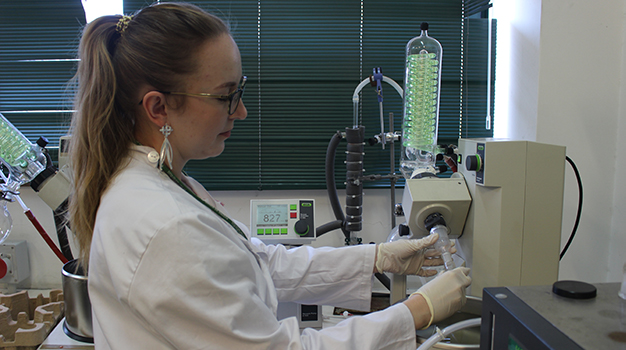 What have you been doing during this month?
This month was definitely very productive. I was provided with great service (airport pick-up, Residence instalation, the University tour). On day 1 at work, I established a workplan with my supervisor Prof. João Rodrigues and everything goes well so far. I collaborate mainly with two researchers, however, all colleagues and supervisors here are very concerned regarding my wishes and needs, and they are always willing to help.
What are your personal goals?
I would appreciate if a solid publication(s) would arrised from my research here. And even more urgently, I would be very pleased if a long-term cooperation between our research groups was established comprising a common reasearch, experience exchange, publications, more mutual student internships maybe...
Would you recommend CQM to other collegues of yours?
I would definitely recommend to stay at CQM. Moreover, I would encourage students not to hesitate any longer and apply for an internship/study visit here in UMa as they would be able to perform an excellent research under professional supervision, which would bring them valuable experience and elevate their professional profile. They would find friendly and helpful people here. Last but not least, the island is undoubtely a little paradise in the middle of Atlantic ocean and one could never get enough of its beauties. They would definitely make life-time memories in Madeira.
How do you feel about living in Madeira Island?
I feel great about staying here in every aspect. People are nice and friendly, food is delicious, I enjoy especially fish and seafood. Weather is very pleasant without any extremes. Funchal is lovely place to stay; it has very nice and lively city center as well as numerous beautiful parks and calm places to take a rest and feel the vacation atmosphere. At the weekends, I just cannot decide which beautiful place to visit first since the nature here is just miraculous! And the splash of flowers! I can hardly imagine a better place for my internship.